The premise
This column is not a pitch… not yet. It is a conversation starter to get intel from various Industry participants to better define the opportunity and turn it into an actual pitch.
The basic premise is this: oil and gas companies are being forced to reinvent themselves if they are to survive in these pivotal times, where significant paradigmatic shifts are taking place globally in the energy space. At the same time, recent events have put thousands of qualified professionals out of work, which means that a staggering amount of knowledge, skill, and experience has become idle.
This scenario provides an opportunity to create a space where O&G companies and professionals come together in a new way of doing business. This space is the Crowdfield platform.
The context
It's no surprise to anyone that the Energy sector has been obliterated over the last few years. To put things in perspective, let's first have a look at the performance of all industry sectors since the beginning of 2018.
To remove the Covid-19 'glitch' in Feb-Mar'20, which affected the entire market, the following graph presents the sector performance not in absolute terms, but relative to the S&P 500 index, the most commonly used benchmark for determining the state of the overall economy.
(Source: StockCharts – link)
The collapse of XLE (Energy sector ETF) is astonishing. The graph shows that Energy sector, by far the worst, underperformed the market by 80%, while the Technology sector, which, to be fair, annihilated everyone else, outperformed the market by 60%. If you had sold Energy stocks to fund your FAANG stocks, you would have done very well in the last 3 years.
The share price of a couple of giants, BP and Exxon, also paint quite a clear picture of the current situation.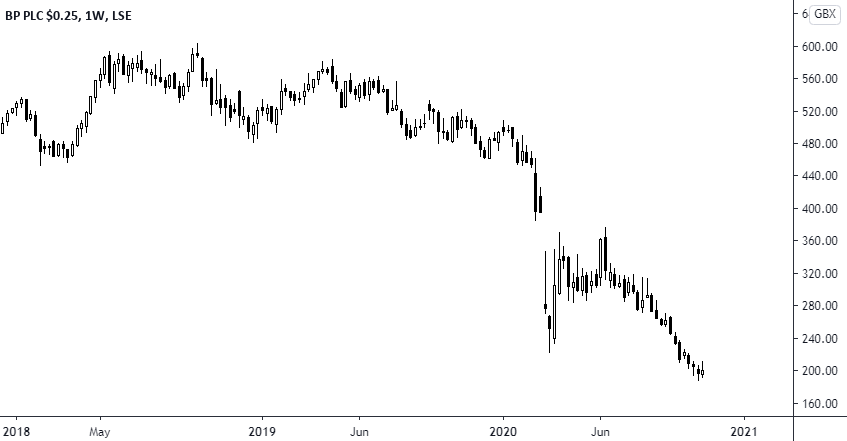 BP and Exxon, both lost ~70% of their market value since the 2018 highs. Interestingly, Exxon Mobil, for years the world's largest publicly traded company, on Aug 31 2020 was kicked off the Dow Jones Industrial Average, the index that tracks 30 large U.S. companies, and of which Exxon was its oldest member. More symbolic than substantive, the event is quite a reflection of the climate the Industry finds itself in.
How did the Energy sector get to this point?
Not an easy answer. Make no mistake though, this crisis is not due to the 2020 Covid-19 pandemic. The pandemic-related unprecedented demand disruption and global humanitarian crisis, only accelerated the evidently transformative process that was already taking place in the O&G Industry.
Amongst the multitude of factors that have played a role in the structural changes currently underway, we can mention;
Persistent concerns over a global economic slowdown, fuelled by US-China trade war over last two and half years, and more recently, by the relentless fall in treasury yields (interest rates) signalling poor prospects for economic growth;

Significant demand shifts brought about by the digital industrial revolution that is radically changing all industries;

Excessive (over) supply, driven by the shale revolution in the US, which turned them into net exporters for the first time since the 1940s;

Lack of investment, as capitals are taken out of Energy and allocated to sectors/industries offering more attractive returns; and

Most importantly, a major global-scale energy transition towards clean energies and reduced carbon emissions, with the associated shifts in government policies and increasing societal pressures due to negative public sentiment towards fossil fuels.
Where is the oil price price headed?
Nobody knows. Not only is crude oil one of the most heavily manipulated markets on the planet (OPEC, governments, large players in the futures markets, etc), with a never ending saga of price wars, failed deals, alliances broken and sanctions, etc., but also, it is a global cyclical commodity whose demand depends on the economic growth prospects of the world, produced in some of the most politically and socially unstable geographical regions, in a rapidly changing world undergoing significant structural and technological shifts. Considering all of that, it's not hard to arrive at the conclusion that predicting the oil price is a fool's errand. There's just too many unknowns, uncertainties, and intangibles.
Is the O&G Industry dying a slow death before our eyes?
Not so fast. It's easy to fall prey to apocalyptic views whilst in the middle of a major crisis, when there's seemingly no end in sight. However, taking a step back and looking at the data, it is apparent that the doom-and-gloom scenarios being portrayed have been greatly exaggerated.
According to pre-pandemic data from the International Energy Agency (IEA), global oil and gas demand will continue to grow for decades. Specifically, demand for petroleum and other liquids will increase through 2050, even as the share of these sources in global energy demand declines from 32 per cent in 2018 to 27 per cent in 2050. Similarly, natural gas consumption is expected to increase by 1.1 per cent per year. Overall, the IEA concludes that oil consumption will still be key to meeting global energy demand for decades to come.

The COVID-19 crisis is having an impact on oil markets as people's movement, particularly commuting is constrained reducing demand for transport fuels (including gasoline and jet fuel). Keep in mind that mobility and aviation account for nearly 60% of global oil demand. Not surprisingly, a recent IEA report took into account the impact of COVID-19 and found that there will be a dramatic decline in oil demand in 2020. Specifically, global oil demand is expected to be around 90.8 million barrels a day in 2020, down around 9.3 million barrels a day from 2019. However, given that demand declines in 2020 are directly related to the pandemic, oil demand is expected to return when lockdowns are eased and economies begin to reopen. Indeed, the IEA predicts a "sharp rebound in 2021," and despite the contraction in 2020, demand between 2019 and 2025 is projected to rise by a 5.7 million barrels a day.

(Source: Fraser Institute – link)
Furthermore, few analysts (see this, and this… well worth a read) converge on the idea that the lack of capital infrastructure upstream investment, together with a mismatch between crude quality and refining capacity, as well as exaggerated forecasts of fuel efficiency improvements, are potentially setting up the next energy crisis in the coming years. Although this narrative seems bullish for producers, the global economy is set to suffer as a result, which ironically is needed for sustainable sector growth. What there is no doubt about though, is that this unprecedented crisis will have a profound impact on the industry, both short and long term, and the O&G landscape will have to radically reset.
What has this crisis meant for the jobs market in the sector?
Every week we hear the news of O&G companies announcing massive job cuts all over the world.
European oil giant Royal Dutch Shell expects to cut up to 9,000 jobs, or about 10% of its workforce (link)

Only a quarter of BP's 10,000 job cuts to be voluntary (link)

Exxon to Slash Up to 15% of Global Workforce, Including 1,900 Jobs in U.S. (link)
In the US alone, about 107,000 oil, gas and petrochemical workers (about 7% of the 1.5 million employed in the industry nationally) have been laid off between March and August, according to a report published by global consulting firm Deloitte. It's the "fastest rate of layoffs in the industry's history", the report says. Truly remarkable.
What all this means is that a staggering amount of knowledge, skill, and experience has become idle. This is an invaluable resource for businesses to tap into.
Enter Project Crowdfield
As the saying goes, 'In the midst of every crisis, lies great opportunity'.
Accepting that the game isn't over yet (not for another few decades at least), and that activity will pick up at some point, probably sooner than most think (as the next energy crisis looms), we find, on the one hand, O&G companies being forced to reinvent themselves, and, on the other hand, thousands of O&G professionals and workers all over the world who suddenly found themselves out of the workforce.
This is where the two must meet. It's time for companies to reach out to the 'Crowd', and do so on a large scale and on a regular basis. How?
The CROWDFIELD platform
At the centre of the Crowdfield ecosystem we envisage to build is the CROWDFIELD platform, built on sound IT infrastructure, that connects businesses to individuals, groups, and businesses.
Individuals register and load themselves onto the platform with a series of attributes (profession, specialty, competences, skills, software proficiency, etc), plus other background characteristics, such as academic degree(s), qualifications & credentials, years of experience, etc.

A Company posts a job/project onto the platform, with a precise job description (scope, deliverables, timeframe, etc.), and selects filters and attributes required.

Suitable candidates meeting the criteria are notified.

Candidates bid for the job.

The Company reviews the bids and selects the ideal candidate.

Selected worker executes the project.
But this isn't new, you're wondering…
Indeed, there are a few platforms already in the marketplace providing this type of service and similar functionality, such as Freelancer, Fiverr, or Upwork. And although a few O&G professional individuals and consultants have registered in these, the reality is that it has not happened on a large-scale basis and O&G companies simply have not adopted this business model.
Our belief is that the breath, depth, richness and variance in detail of a petroleum project can not be made justice with a generic platform. Hence, the key differentiator of the CROWDFIELD platform is that it is specifically designed and tailored to the O&G Industry, with all its nuances and characteristics.
Paradigmatic shift
The biggest challenge is to break inertia and get Companies to adopt this way of doing business. Contractual arrangements, data confidentiality issues, quality control mechanisms, interdisciplinary interactions, follow-up accountability, are only a few of the many hurdles that need to be overcome to get Companies over the fence and deem the Crowdfield enterprise viable.
Granted, there are scenarios (probably most) where either in-house resourcing, or a trusted consultant (individual or firm), are simply not replaceable. This comes down to the fact that history, reputational backup, and trust built over the years, are not dispensable commodities. However, we argue that on great many occasions, outsourcing a task/project to the crowd can actually be the most cost-effective solution. Sometimes, it only takes willingness, and simply a bit of creativity. I've seen over and over in my 20-year career situations where the work was left to inexperienced teams, only to have the work redone or outsourced to an external firm, losing valuable time and resources. Likewise, I've seen countless senior professionals and managers burning valuable time on repetitive tasks manipulating large excel spreadsheets in situations where a young skilful engineer, working remotely from the other side of the world, could have coded a macro in a couple of hours for a fraction of the cost. In this example, the job could be framed and implemented in generic terms, with no data confidentiality issues to worry about. As these ones, there are plenty of other jobs where this modus operandi is absolutely feasible.
Another material business behavioural shift is to do with remote work, rapidly becoming the new normal in 2020. Team dynamics, group discussions, forums, team meetings and presentations, are staples of any organization, and typically have required the physical presence on office premises. In this time and age, however, with the advent of incredible technological tools we have now at our disposal, it is evident that remote work is not an impediment any more to conduct business. In fact, amid the recent Covid-19 outbreak and enforced lockdowns, many employees and business owners alike woke up to the realisation that working-from-home arrangements not only did not pose any major problems, but actually worked out for the better, with many reporting significant productivity improvements.
Crowdfield is a win-win proposition; workers can continue to hone their skills and develop their careers, while companies can tap into a wealth of experience and a very broad skill base to execute their projects and advance their business in a cost-effective fashion. For companies, the ability to access the right experience and knowledge will lead to productivity gains for a project that may not have been available through traditional resourcing methods.
In particular, the competitive nature of the proposed ecosystem, operating under a bidding mechanism, enables the constant real-time market feedback that ensures that a fair price is always found. This must be embraced and appreciated by the participants on both sides of the deal.
Crowdfield as a strategic partner
The CROWDFIELD platform is envisaged to be a sound, autonomous, self contained technological solution where both, workers and companies, meet one another without needing any third party as intermediary.
However, understanding the ins and outs of the O&G business, we anticipate that many company departments will actually prefer to outsource the admin burden related to overseeing the work carried out externally. For small companies and start-ups in particular, we can provide agility, leverage existing teams, and support groups that may struggle connecting to the right skill sets at the right time.  For these reasons, our goal is to position the Crowdfield Team at the core of the Crowdfield ecosystem as a trusted strategic partner to the Companies. Whether helping with the writeup and loading of a precise project description, pre-screening/interviewing/selecting candidates, controlling progress through milestone gates, curating handover documents and files, or any other related task, we want to offer optionality. Ultimately, facilitating the exercise of outsourcing, and providing the smoothest possible experience through the platform, are the key to get Companies to embrace this new paradigm.
Crowdfield development roadmap
Whatever the scope of our involvement in each project, our vision is to build and grow a trusted brand and be recognized as the Industry leader in the O&G crowdsourcing jobs market.
We're currently in the Consultation stage, where we talk to Industry actors and Company managers to gauge appetite and map out in detail the needs to be met. The objective is to collect as much intel as possible on requirements for the platform and desirable characteristics for the Crowdfield ecosystem as a whole.
At the end of the consultation stage, a white paper will be formalized with a clear project definition. From there on, this is how we envisage the development roadmap will look like.
If you're interested in this project, want to collaborate or simply want to express your opinion and provide feedback, please reach out.
Alan Mourgues
MSc, MIEAust, CPEng, NPER, RPEQ, SPE